As you all know, I am a very busy, international, jet-setting sort of a goose. This means I don't have much time for mundane things, such as washing, tidying my pond or keeping my blog up to date.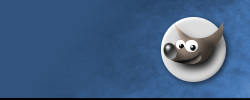 Basically, I never bothered to change the look of my blog from the default "Kubrick" template that the WordPress software came with. Trouble was that frankly it looked rather boring. It was not the sort of image that a glamorous goose-about-town such as yours truly really desired. So last night I sat down with the latest GIMP (Gnu Image Manipulation Program) and had a good splash around to see if I could perk up my blog just a little bit.
Now there is much debate online regarding GIMP versus a commercial product called Adobe Photoshop. I accept that Photoshop is generally pretty good. Lots of graphics professionals use it. But it costs a wing and a leg. And I am far too mean to pay for expensive, proprietary, American software. Besides, there isn't a version for Linux yet – though I did make Photoshop version 7 for Windoze run under Linux using WINE, once upon a time. Buggered if I can remember how!
Granted, "GIMP" is a bloody silly name for a product that should really be taken very seriously. On the other hand, GIMP offers cross-platform compatibility in a manner that totally eludes Adobe. There are versions of GIMP for Linux, FreeBSD, Solaris, Apple Crapintosh and Windoze. But its real difference is that GIMP is 100% open source. This means that the source code is freely available to all. It also means that GIMP can be recompiled for virtually any modern graphical operating system.
Even better, it is 100% FREE of charge too. Yes FREE! No strings, no adware, spies or nasty stuff. It's just good, solid software for your computer with no damage to your wallet whatsoever.
So, whilst the arty types slug it out over on Slashdot & Purestorm, the debate round these parts never really left the pond. GIMP is now the official image editor of choice for all good little geese everywhere. Check it out…
Honk! Honk!
PS. No wallets were harmed in the making of this site! 🙂