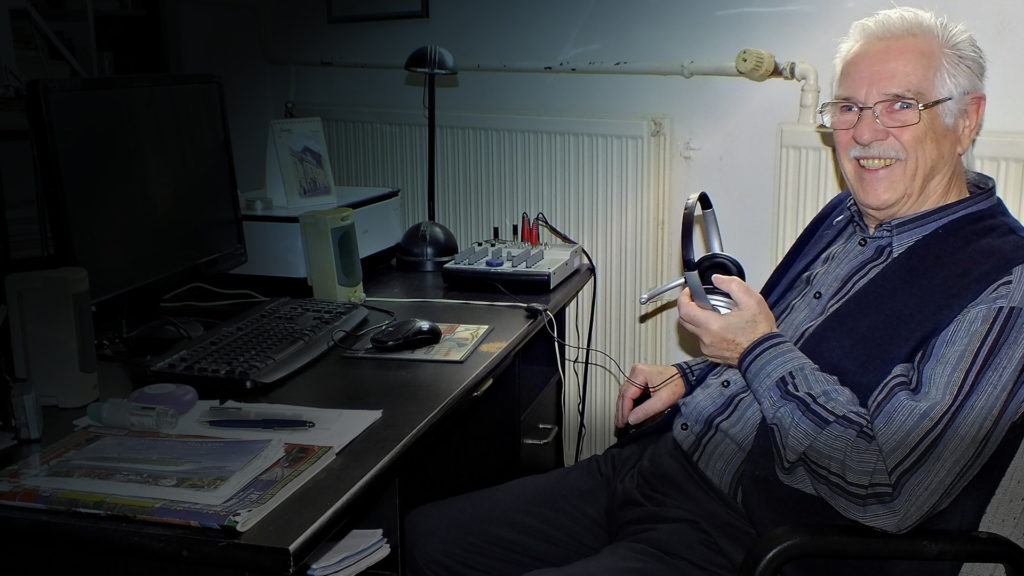 "…playing his favourite music, I hope you like it."
These are the first words you will hear when you connect to the internet radio stream of Radio Pécs International. And I recently had the pleasure of meeting the man behind the show, Hans Randau. His station is located in a small basement room in his lovely home, which overlooks Pécs, a Mediterranean style town about 200km south of the Hungarian capital, Budapest.

HansinUngarn, playing his favourite music, 2014-01-07…
Hans is a German citizen who married a Hungarian lady, way back in the days when Hungary was part of the Soviet-dominated "Eastern Bloc" and it was difficult for Hungarians to travel to "The West". Today things are very different. Hungary is now a member of the European Union, enjoying relatively free travel across its borders. And Pécs was the "European Capital of Culture" in 2010. This gave it access to a sizable wad of EU cash – enough to tart-up some of its crumbling monuments, that were so badly neglected under the communists.
Sadly however, some would argue that this accolade was somewhat devalued by the fact that Liverpool (UK) had already been a "European Capital of Culture" back in 2008 – much to the amazement of anyone who has actually been to Liverpool. As one Liverpudlian told me, many years ago, "The world remembers that the Beatles came from Liverpool. However it is often forgotten that the mop-topped superstars all vacated here as quickly as they could!"
But I digress…

A retired teacher and engineer, Hans moved to Hungary with his wife, though he still retains roots in his native Germany too. He has run his radio station from Pécs since 2008. Describing himself as a "citizen of the world", Hans speaks German, English, Hungarian, as well as enough French to introduce a record or to ask for a beer.
Hans now enjoys listeners from all around the planet – though mostly from the Anglosphere: e..g. Canada, USA, UK and New Zealand. He also has fans right across continental Europe.


Tandberg Huldra 10 connected to a 50-Euro Maxell C7 tablet, playing Radio Pécs International
I can bear testament to his station's worldwide appeal from my brief time in his chat room, where a chap from British Columbia turned up. He was followed shortly by a lady from South Carolina, and another listener from California. Meantime Hans was saying "hello" on-air to more of his listeners in Croatia and Hungary.
Interesting to think that the United States probably has more radio stations per head of population than any other nation on earth. So why do Americans patch-in to a tiny station thousands of kilometres away in central Europe? Seems primarily his audience enjoy the eclectic variety of music he plays.
As one listener said, "You learn something new every time you listen." Or as Hans rather neatly put it, "World citizens like [radio] stations run by world citizens." From my point of view, I agree with all the above, plus the fact that there are no commercials!
His stream currently supports a maximum of 25 concurrent listeners and he bankrolls the project himself. However he is puzzled by the fact that his audience suddenly surges when he plays certain songs. This is hard to explain because listeners have no idea what he is playing until they actually connect to his stream. Seems for now, this remains another of life's little mysteries.
His playlist currently boasts over 10,000 tracks and is growing all the time – especially as often goes out to find material that his audience requests.
His radio stream is generated by Nullsoft's Shoutcast, a cross-platform (but proprietary) software application for streaming media over the Internet. The stream hosting is provided by German stream hosts pop-stream.de. Then, a standard desktop PC, a simple mixer desk, a set of headphones with built-in microphone and a copy of DJSoft's Radioboss (radio automation software) complete his simple-but-effective equipment line-up.
His radio stream is compatible with Windows, Macintosh OSX and most popular GNU/Linux flavours, including Red Hat, Slackware, Debian, Ubuntu and Mint. It also plays on most Android devices. However my budget-priced Maxell C7 tablet throws an error, complaining that it cannot play the stream. Then it plays it anyway! Of course, that is just one of many, many Android bugs and has absolutely nothing to do with Hans!
You can connect to his live radio stream 24/7 by typing the following URL into your browser or into favourite internet radio player. Give it a go. You won't be disappointed…
http://s8.pop-stream.de:8120/listen.pls


Radio Pécs International played in the excellent KRadio4 player for Penguinistas who use the KDE desktop