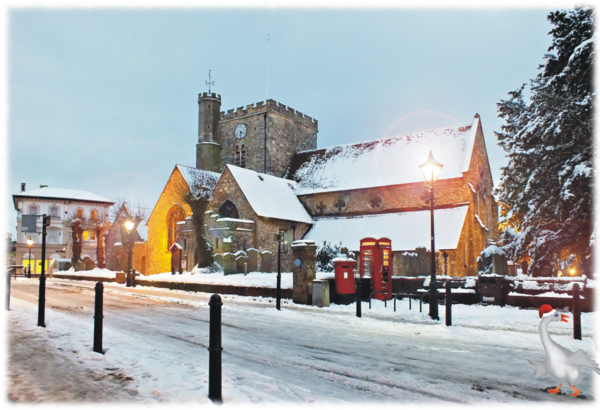 In 935AD, Havant was known as "Hamafunta" – the spring of Hama – referring to the water spring to the south-west of St Faith's Churchyard. The settlement was located at the crossing point of the track from the Downs to the coast and another track running east to west along the coast. By the time of Domesday Book, 1086, Havant was a village with a population of around 100. In 1200, the monks of Winchester Cathedral were granted permission to hold a market in the town, known at this time as "Haveunte".
Much of Havant was destroyed by fire in 1760, leaving only the church and the adjacent 16th century cottages. Some locals argue that today's town centre would be greatly improved if the same fate befell the ghastly-looking Meridian Shopping Centre. The cottages are now a pub called "The Old House at Home". It is said that the two main beams in the lounge bar were salvaged from the Spanish Armada, and that the "Bear Post" had the last dancing bear in England tethered to it. Others say the post is there to help the regulars stay upright after they have drunk a few too many – or if there is an earthquake. That is not as far-fetched as it sounds because Havant did suffer minor earthquakes in 1784-10-25 and 1811-11-30.
Water played an important part in Havant's local commerce – including breweries, water mills and parchment manufacturers. Local tradition says that Havant parchment was used for the 1215 Magna Carta and the 1919 Treaty of Versailles. However, parchment production ceased in 1936. Today, the borough of Havant has a population approaching 120,000 and is part of the Portsmouth conurbation. It is bypassed by the A27 dual carriageway to the south and the A3(M) motorway to the west. Its properties have "PO" post codes and it shares its "(023)" dialling code and 8-digit telephone number system with Portsmouth and Southampton. The city of Portsmouth lies about 9 km to the south-west, Southampton is 30 km north-west and London is 90 km north-east.
The popular holiday resort of Hayling Island and its scenic beaches are a just short southerly cycle-ride from Havant town centre. Hayling hit the national news recently because a holiday caravan was blown over by a very small tornado. Havant's local community radio station, Angel Radio (101.1 MHz VHF/FM) primarily aimed at those of pensionable age has proven more popular with other demographic groups than its station controllers anticipated and currently enjoys a cult following online. Meanwhile, rumour has it that the local football team, Havant & Waterlooville FC, aka "The Hawks" very nearly almost won a match, once…
---
More goosy nonsense courtesy of Mr.Goose's infamous Webfooted Weblog:-
https://garfnet.org.uk/mrgoose
Take a trip down memory lane and browse all our earlier Christmas cards in our special on-line Christmas Card Anthology:-
https://garfnet.org.uk/cms/category/christmas-cards/
Image was created/edited using GIMP, a free, open source graphics package bundled with many Linux distributions. Free download for Windows & Linux…
http://www.gimp.org
"Tux", the original Linux penguin was created in 1996 by Larry Ewing, using GIMP.
Tux is the official logo of the Unix-based, open-source, GNU/Linux computer operating system.
Linux is a registered trademark belonging to its inventor, Arch-penguin Linus Torvalds.