One of the problems with modern life is the plethora of plug-in mains adaptors or "wall warts" as they call them on the other side of "The Pond". Aside from the mess of wires, and the fact that often they are plugged into multi-gang power sockets an heaped on top of one another, building up heat, some wall warts are not particularly safe either. Often they have no over-current protection for their outputs. So a short circuit in say a PoE cable could even result in a fire. There are indeed many good reasons to feel fed up with wall warts.
As I was installing my Zoneminder system a couple of years back, I decided I really needed something better and safer. That's when I stumbled upon multiple output DC power distribution boxes.
They are sold by various names and marques, but essentially they are 110 VAC – 230 VAC to 12 volt DC switch-mode fused distribution boards. Each DC output has a 20mm fuse. So if there is a short, or some other issue resulting in over-current, the fuse blows and that output is safe once again, There are various types of distribution around. They are also highly modifiable and you may decide to perform further mods when you get one. All of mine are modified in some way.
E.g. On my latest units, I cut an extra hole for an IEC 60320 C13 base socket using a "nibbler". Hardly any of these distribution boards have "proper" cord grips. Using a detachable IEC lead is safer than an internal mains switch – as well as being simpler. Also in my new units, I replaced the inner 12 volt 10 amp modules with 12 volt 15 amp replacements. Both sizes will fit. Some newer units already come with 15 amp power modules.
Early incarnation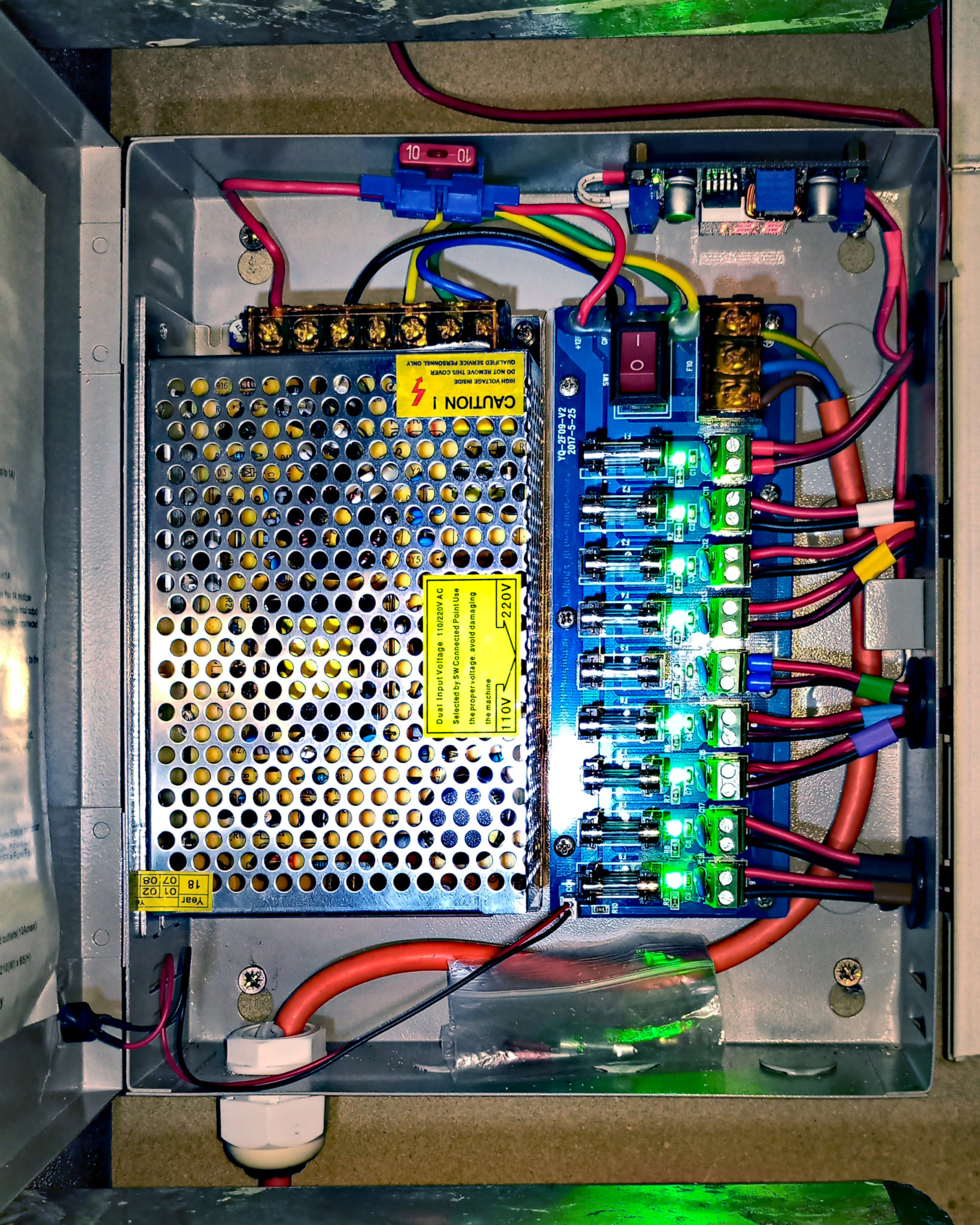 2001 Incarnation
These days I have no qualms regarding modifying these things to suit the application. In this version, Mains cables (live and neutral) are double insulated and sleeved where necessary, and no longer connected to DC distribution board for safety reasons. Also installed better (safer) all-metal locks (they're only a quid each) and Dymo-ed the key number on the cabinet door….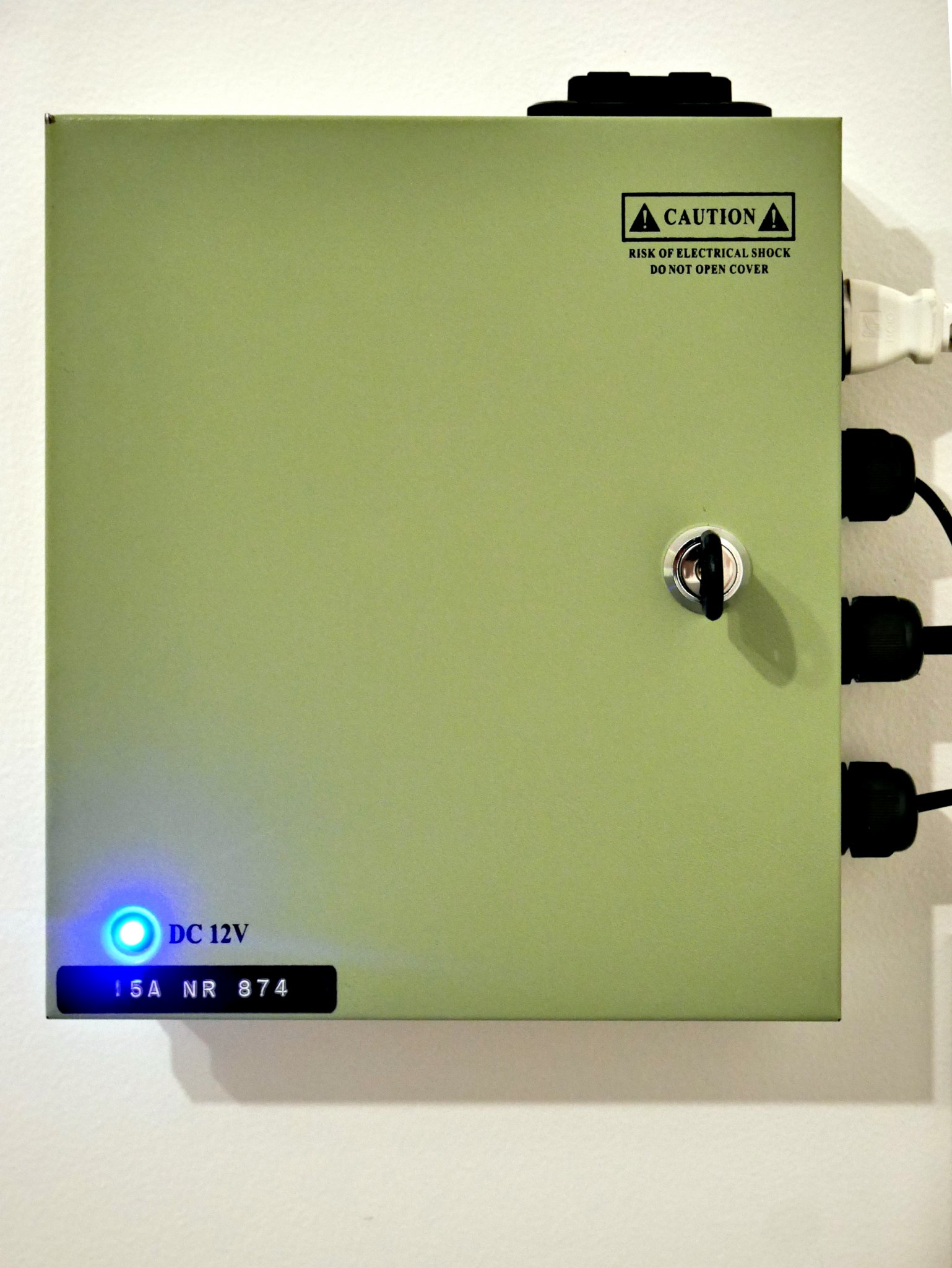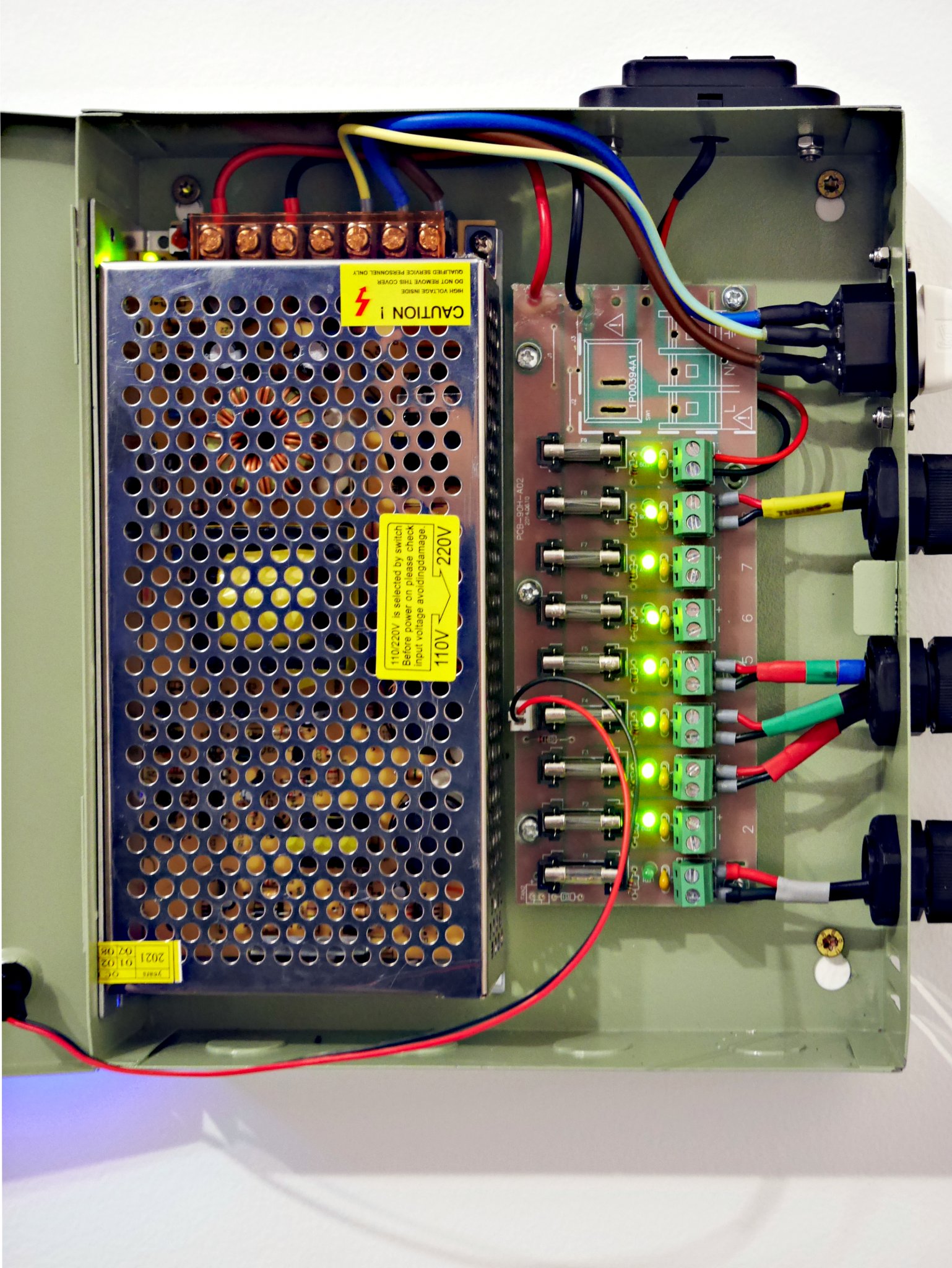 The power unit in the garage provides power for…
Foscam garage IR security camera.
Raspberry Pi4 8GB, Zoneminder/WeeWx GNU/Linux server.
Aercus 'WeatherSleuth' weather station transponder.
Draytek 130 ADSL modem.
TP-Link TL-R470+ v6 load-balancing router and firewall.
Wiwav WDH-16GT2GF-DC10/100/1000Mbps 18-Port (16 port copper + 2 fibre) small-footprint industrial Ethernet switch.
Generic PTZ + IR HD eternal camera (via PoE adaptor).
2 x external fixed analogue IR SD cameras (via PoE adaptors).
Avigilon 4-Port h.264 analog to digital video encoder.
Front door keyless entry system.
I'd add that I have a cheap but highly efficient buck converter in line to power devices that prefer 9 volts to 12 volts such as the Draytek DSL modem. Click here to see what it powers.
The power unit in my studio provides power for…
Pan and tilt HD studio security camera + USB camera battery charger.
8 way Ethernet switch.
Foot-level safety LED strip for main staircase (located next to studio).
Pan and tilt HD garden security camera + 2 x infra red flood lights (for rear garden).
Backup HDD(s) (when connected).
Christmas tree (when used)
Under shelf concealed LED lighting for Dexion rack.
Under shelf concealed LED lighting for display case.
Both units derive their input power via a large UPS in the garage (bought separately of course). That also powers our Linux Media Server. Keeps it all up and running for about 30 minutes in the event of mains power failure. I'd add that serial of the mains sockets in the studio also have 5 volt USB outputs too.
You can find the devices c/w any extras you may wish to add on AliExpress and similar. If I were buying anew I would consider one of these, and cut a hole for an IEC socket where the top 20mm grommet is currently located. The PSU module is already 15 amp.