When we moved home a few years back, one of the most significant parts of our specification was a detached property with enough space for a reasonable sized home studio. We were looking for a place with a rectangular downstairs room, with no internal obstructions, roughly 6.0m x 4.0m, c/w a cloakroom on the same floor with toilet, basin hot+cold water and sufficient room for models to change reasonably comfortably. I based my studio size requirement thus…
Absolute minimum 5.0m x 3.0m (Calculation basis: paper rolls are 2.72metres wide; camera needs to be 2-3 metres from model; model needs to be around 1 metre from backdrop; backdrop will be offset from wall and I need to get behind camera).
Absolute minimum ceiling height 2.35m based on achieving the above.
Workable minimum approximately 6.0m x 4.0m (room for storage, peripherals, costumes, GNU/Linux media servers etc).
We had the added constraint that my wife wanted to be within walking distance of a mainline railway station. She worked in London at the time. Property also had to be detached because sometimes I work well into the night on various projects. Obviously it had to be affordable too. We studied the details of over 1000 potential properties, in a 200km quest that stretched from Weymouth in the west to Hastings in the east. We narrowed this down to a shortlist of about 100 that we actually visited and measured. We found just three that were potentially viable. One sold before we could sell our old place. Another needed a lot of work. Then there was this place, a probate sale, with plenty of room, a nice garden, close to the railway station, that "the boss" liked too! 🙂 Which is how we ended up here in Havant. 🙂
My Space
Here we have a heated, separately-accessible rectangular downstairs room, 6.4m x 3.8m. Property also has a separate cloakroom on same floor level, measuring 1.6m x 0.8m. It's important that one's models have a comfortable private room for changing and doing their various ablutions. Additionally, there is a couple of square metres of easily accessible storage under the stairs, between the studio and the loo, that is ideal for storing costumes and props. Ceilings here are 2.35m from top of floor coverings (2.40m nominal). Ideally I'd like an extra metre in all three dimensions, but one can't have everything! 🙂
Nevertheless, it soon became clear that I needed to make use of every square centimetre and deploy the available space as efficiently as possible. So I decided to deploy the following…
Wall-mounted, pre-wired extensible booms, c/w 16mm spigots and IEC 320 electrical connectors. This means I can quickly swap between studio flash and various forms of continuous daylight and RGB+CCT LED continuous lighting. Also means I seldom need floor stands. Which in turn means there is less clutter to trip over!
Lots of 16mm lighting spigots bolted to anything strong enough, e.g. on the ceiling spotlight fittings and the metal racking, located behind the photographer. These things are about a quid each from China, and they give me lots of studio-light mounting options that do not require separate stands.
Six-way, radio-controlled, ceiling mounted, motorised backdrop system, bolted to the ceiling joists, up as high as it will go.
I have also tried to do it as inexpensively as possible, using mostly generic Chinese kit, modified to suit my needs. I will elaborate on that subject in another article.
I was unhappy about using a conventional chain-driven backdrop system. I was concerned that as the room gets used for other purposes, people could get easily become caught up in the dangly chains. So I opted for a an electrically driven system instead. These motorised systems use the same steel hangers and plastic internal roll-clamps that the more popular chain-driven systems use, and they are available in various sizes.
My chosen model accommodates 6 paper rolls and has a 470MHz wireless remote control system. I paid a bit over 200 quid for the 6-way system, c/w hangers, roll-claps, motor assemblies, handheld remote control, control box and switch-mode power supply. Well the system arrived. Now I had to install it. First problem, the control box rattled. So I dismantled it, and discovered that the switch-mode power supply board was floating about. So I stick it firmly back in place and added a couple of additional layers of insulation between it and the RF/Relay board.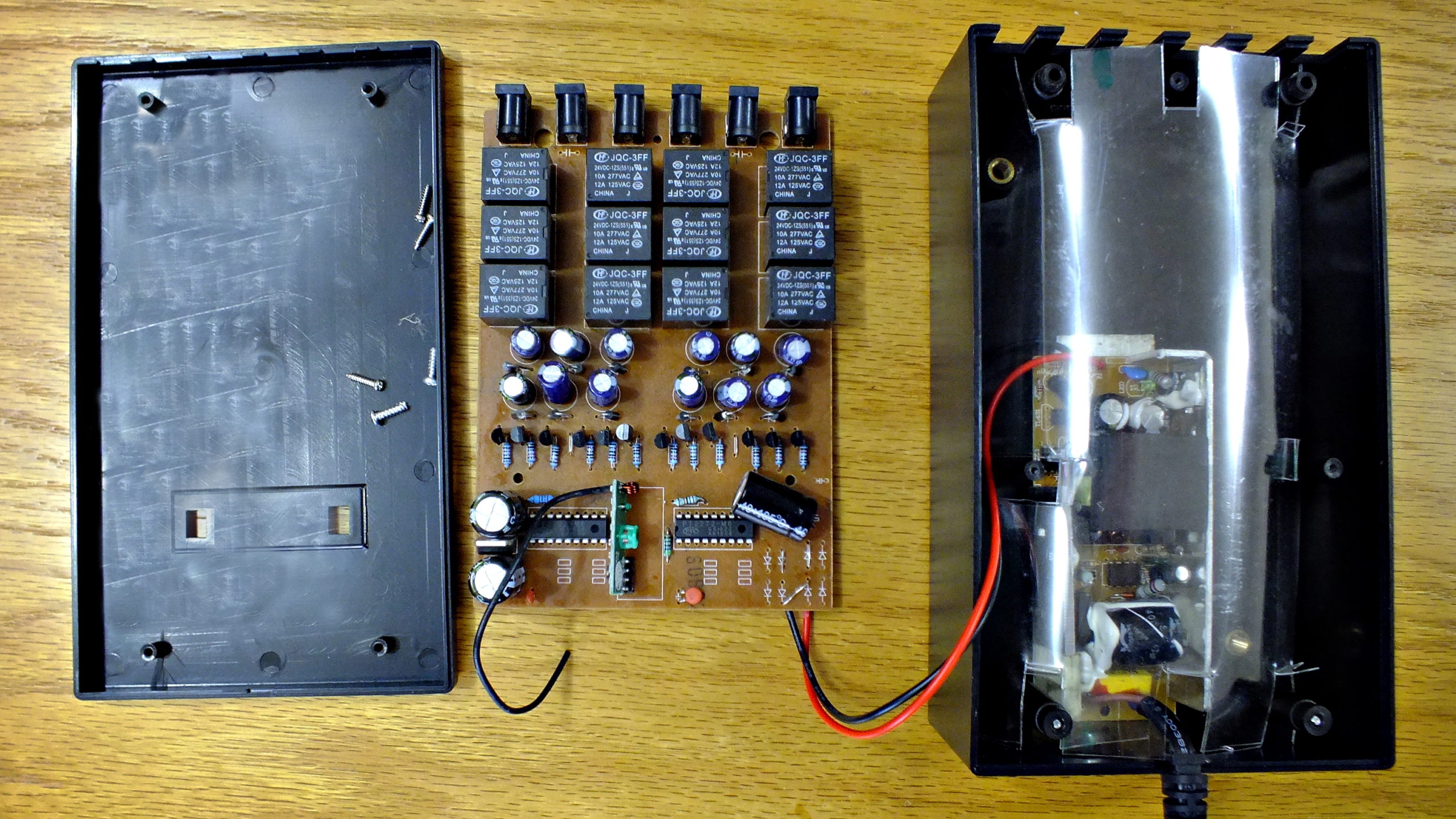 Next problem was that the metal hangars are designed to fit on a solid wall or ceiling. Most UK homes have ceilings comprising of plasterboard over timber joists. Needless to say, the place where the hangers needed to go did not line up with the joists. Which meant I needed some sort of load spreader. I decided to use 2 off 1000mm x 400mm x 18mm plywood plates, which I sprayed matt black.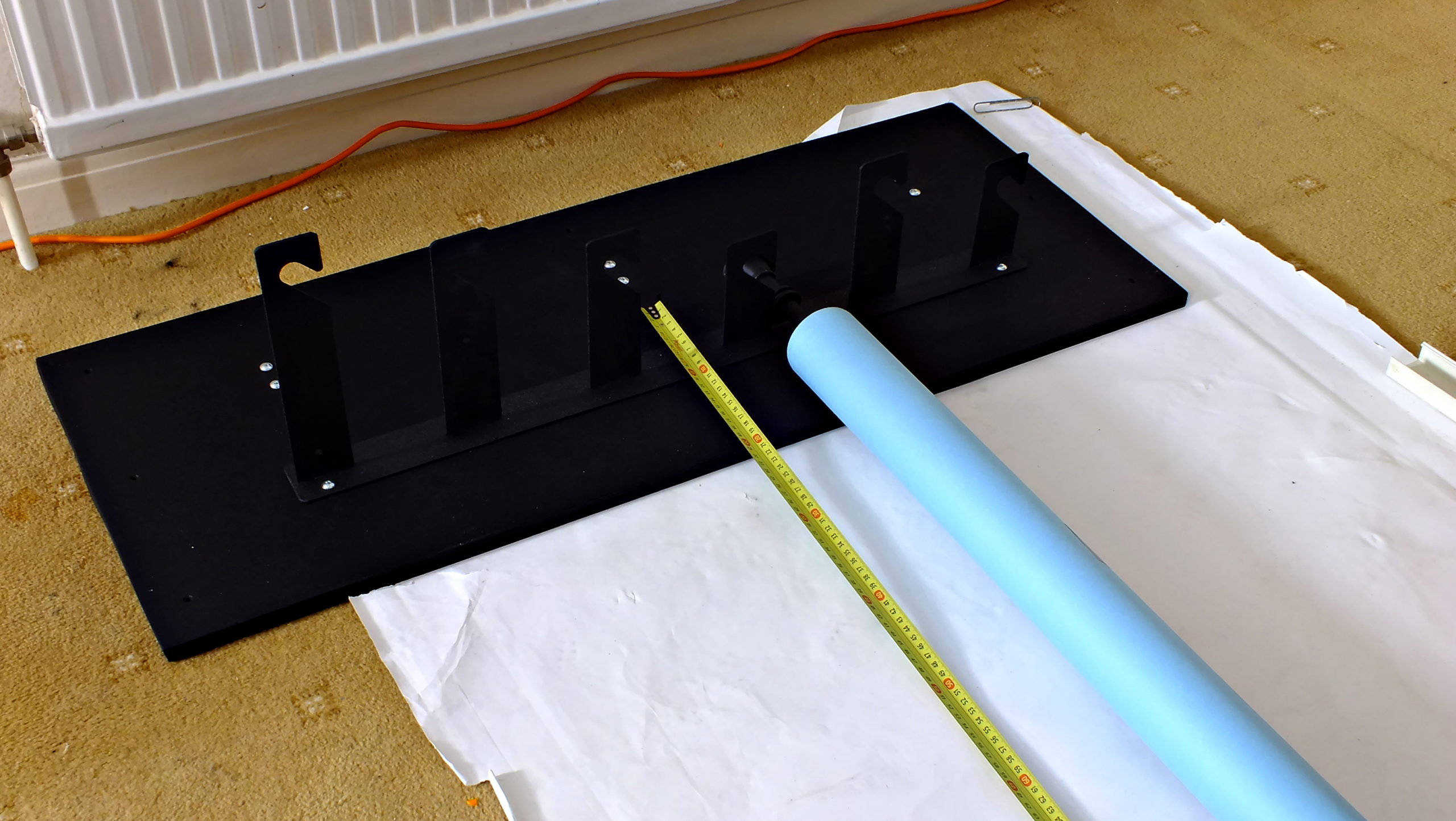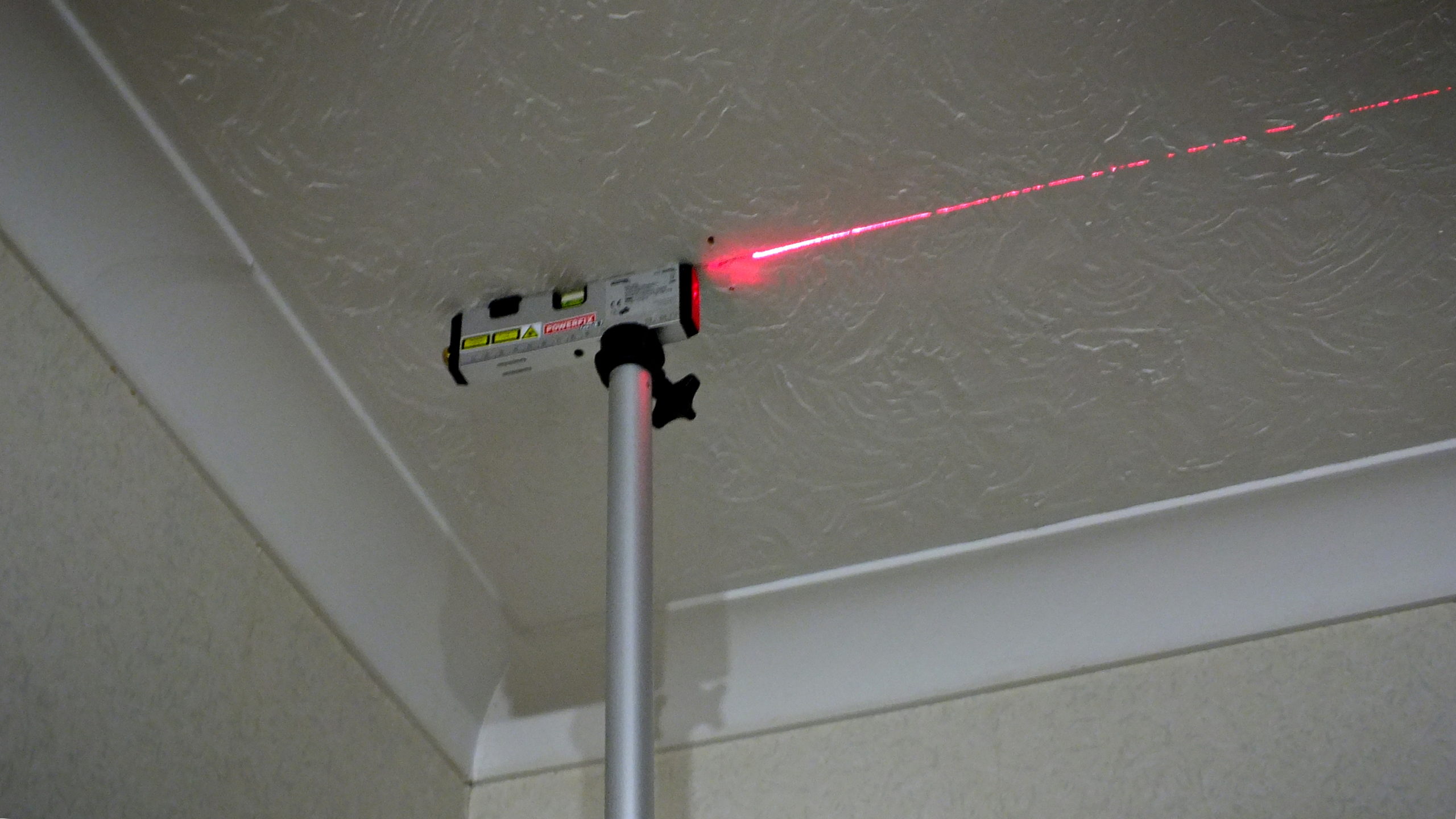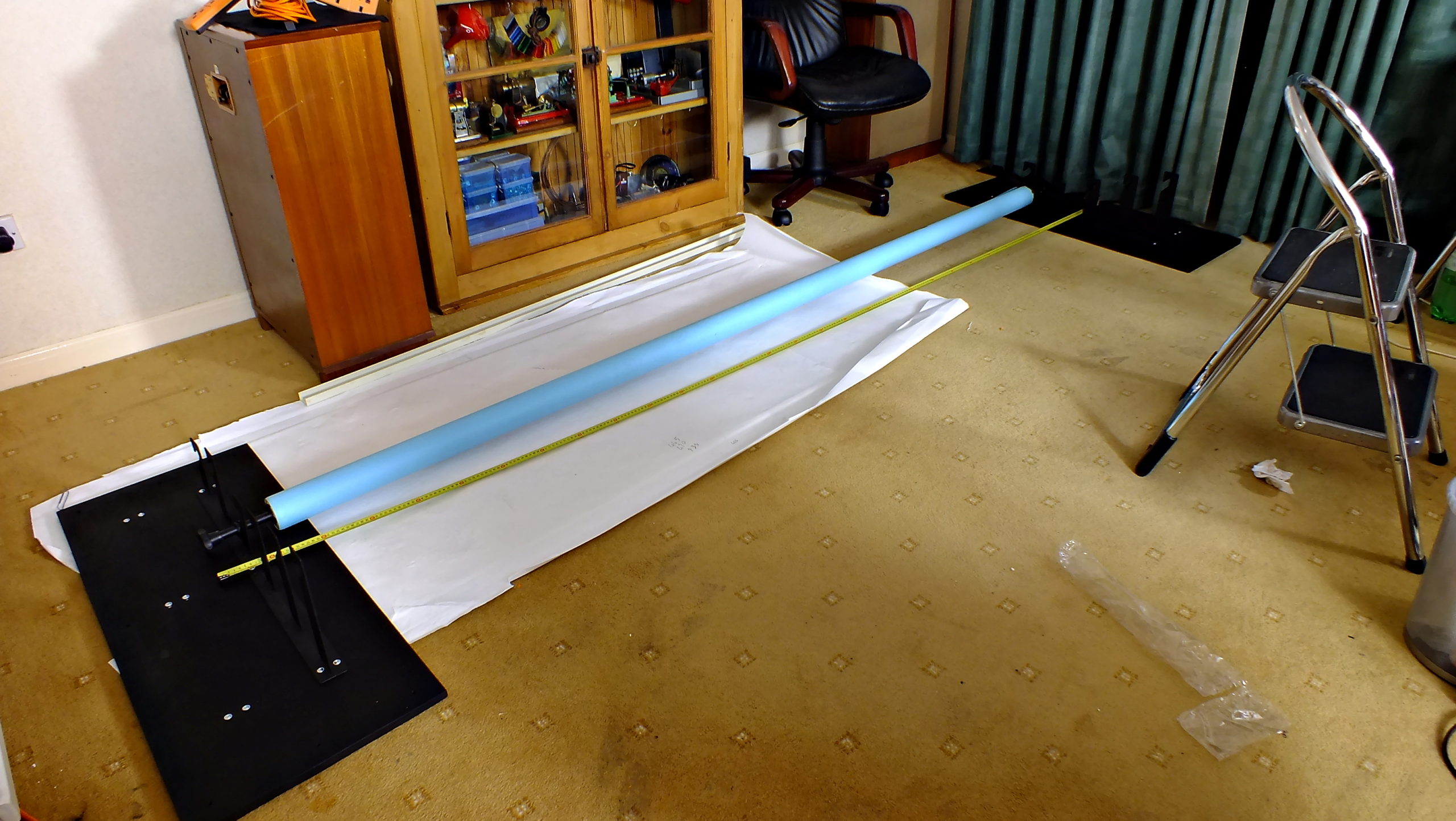 Six full paper roils plus the plywood plates, the hangers, motor/gearbox assemblies and control unit all add up to a significant weight. I estimate around 35kg. Therefore it is vitally important to ensure that the plywood plates are secured to the ceiling joists properly. Never simply attach to the plasterboard. Having first located the joint centres accurately using a bradawl and a laser level, I used some hardened steel self drilling 80mm screws. to secure the plywood plates to the ceiling joists. To make life a little simpler, I pre-drilled the plywood plates and fitted the metal hangers to the plywood plates, before finally ecuring the plates to the ceiling.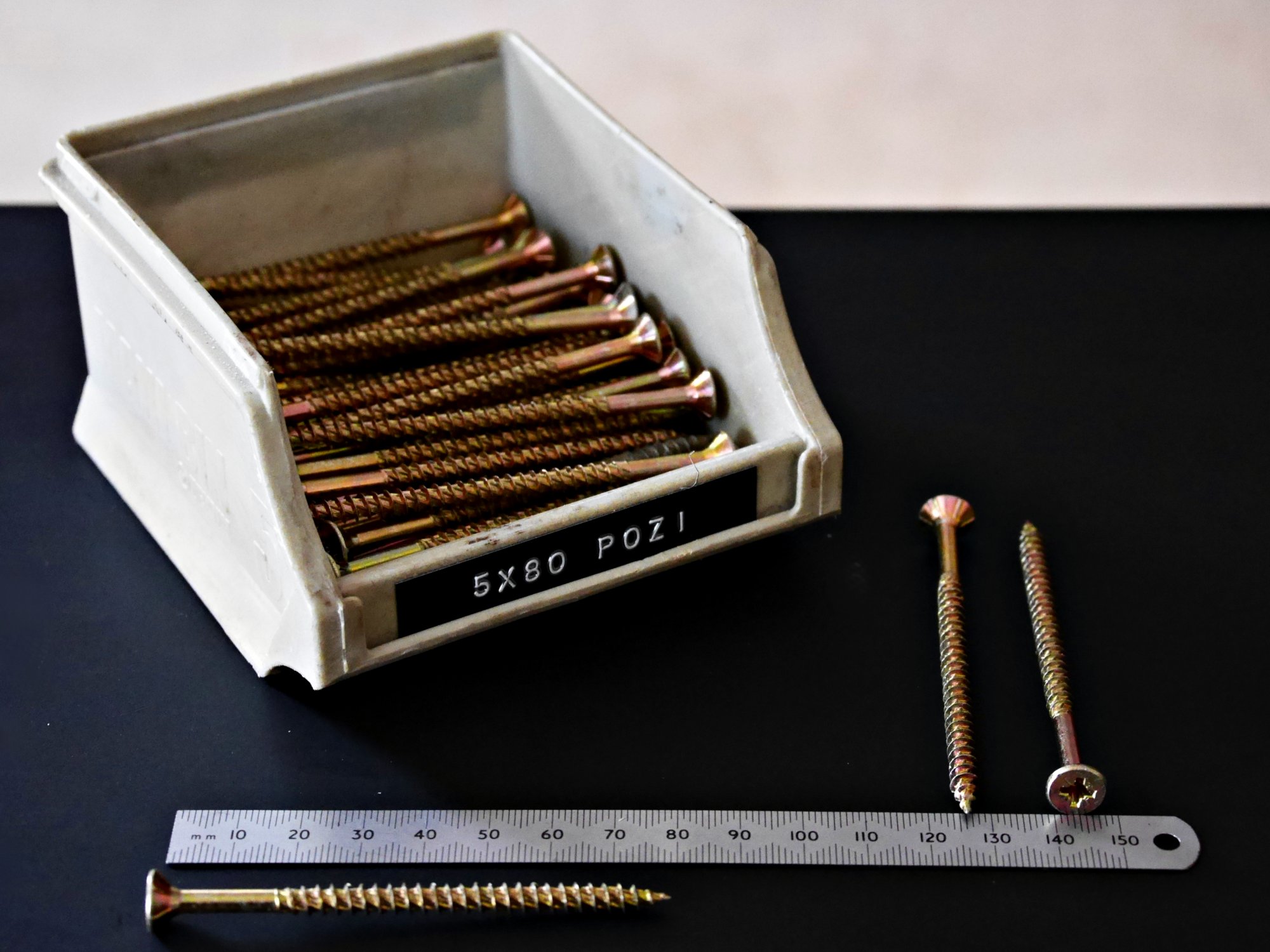 The motor drives are interesting. Inside the plastic housing, each motor assembly consists of what appears to be a very solidly-built metal 24volt truck windscreen-wiper motor. This is connected to an equally chunky metal gearbox, that is essentially a worm drive. Which means that when the motor stops, the roll stays put. To ensure the paper rolls up/down nicely and evenly, I splashed-out another £120 on a set of six Manfrotto clip-on paperweights. They weigh just under 1kg each but they are sufficiently heavy to keep the paper taut.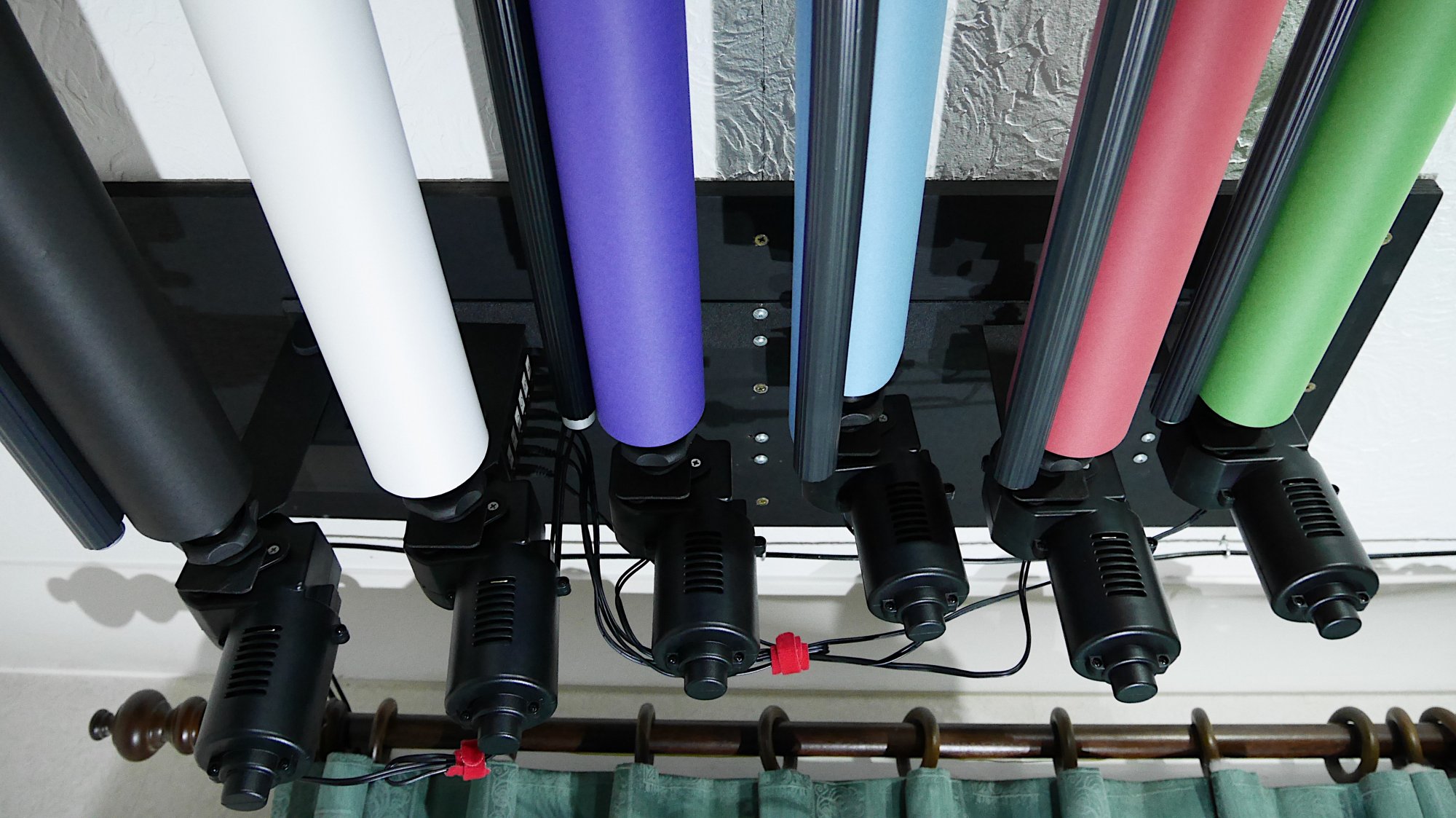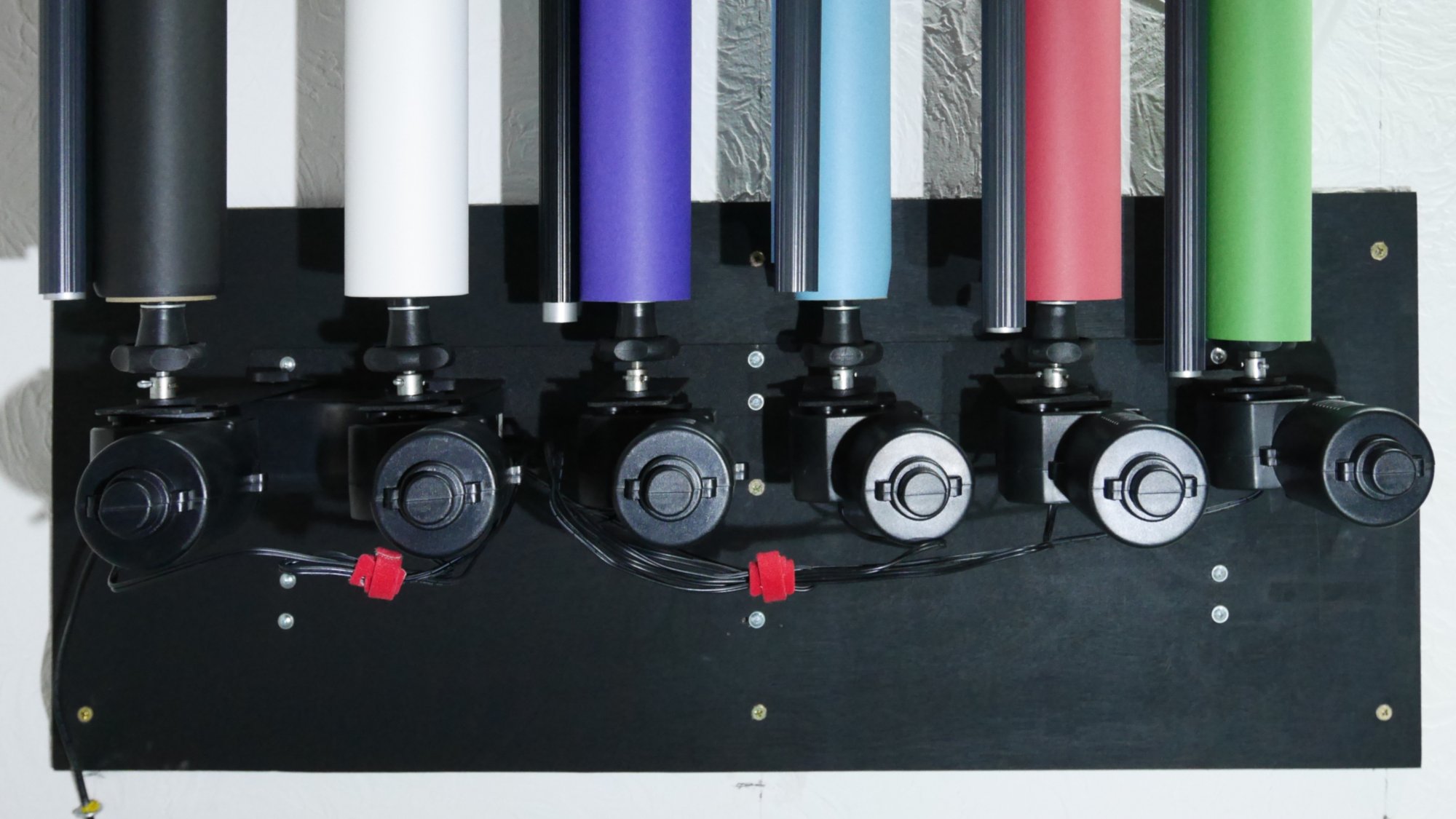 If one adds the cost of 6 off 11m x 2.72m paper rolls of various colours, 2 off 1000mm x 400mm x 18mm plywood ceiling plates, a box of 5mm x 50mm self-drilling screws, a box of 5mm x 25mm pan-head self-tappers, a 300ml can of matt-black spray paint and a few other bits and bobs, the whole kit and caboodle set me back around 600 quid.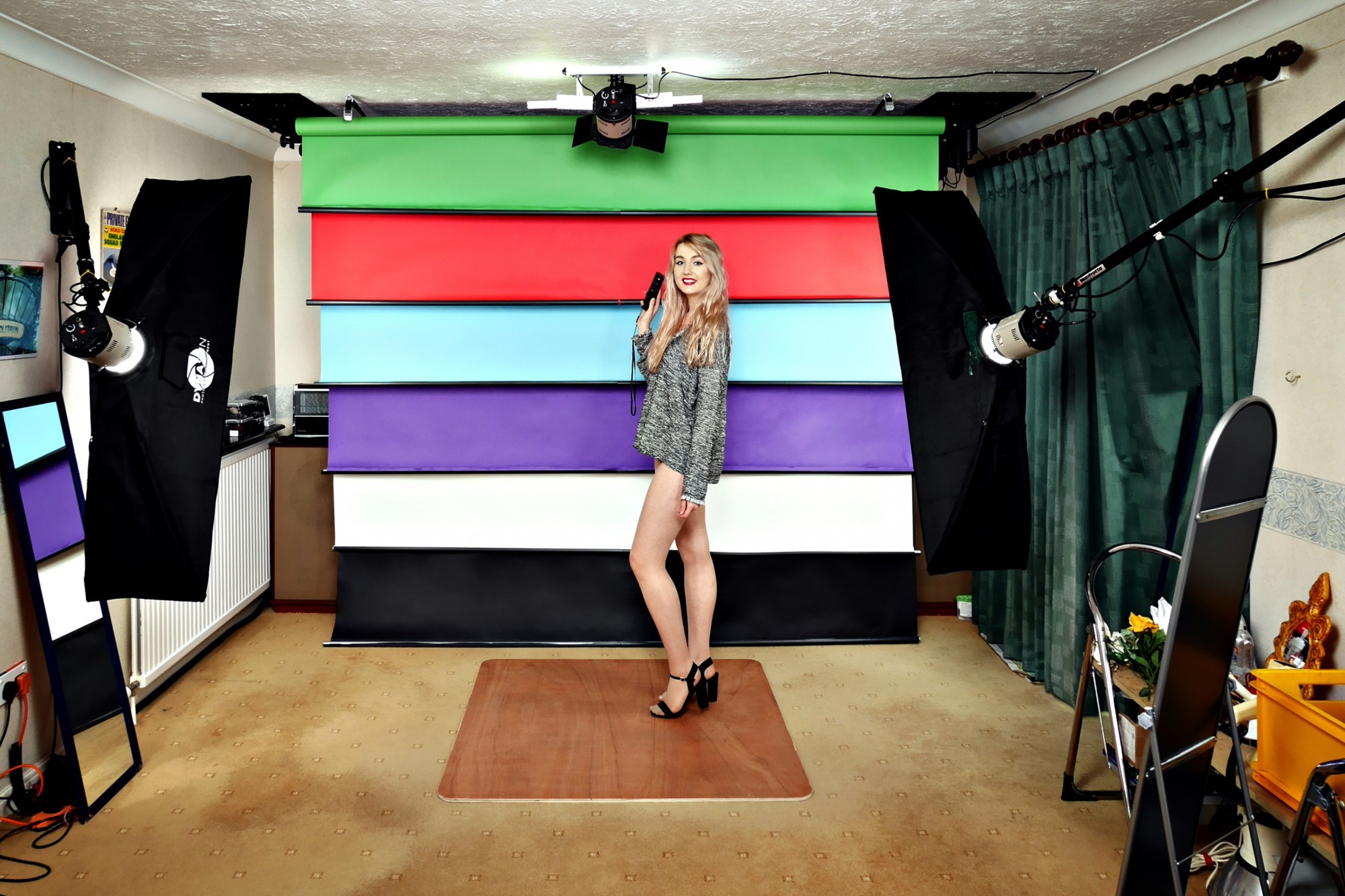 Granted, it was a bit of it of a bugger to fit – working overhead, finding the ceiling joists etc. But it's eliminated almost all my backdrop issues all in one fell-swoop. Paper rolls last much longer too because the rolling-up/down does not induce any additional damage. It's also virtually eliminated storage problems too because at the end of a shoot, they all simply roll-up, right out of the way, within 15cm of the ceiling, all at the click of a button.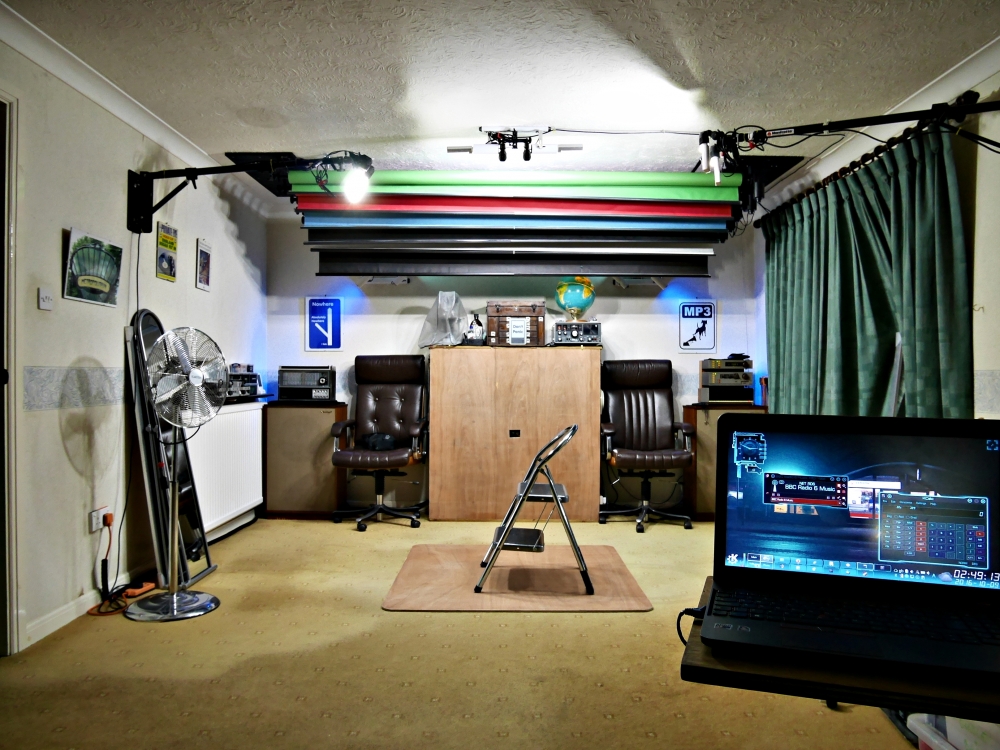 The ability to be able to select and deeply a backdrop quickly has proven very useful indeed with my various continuous LED lighting experiments.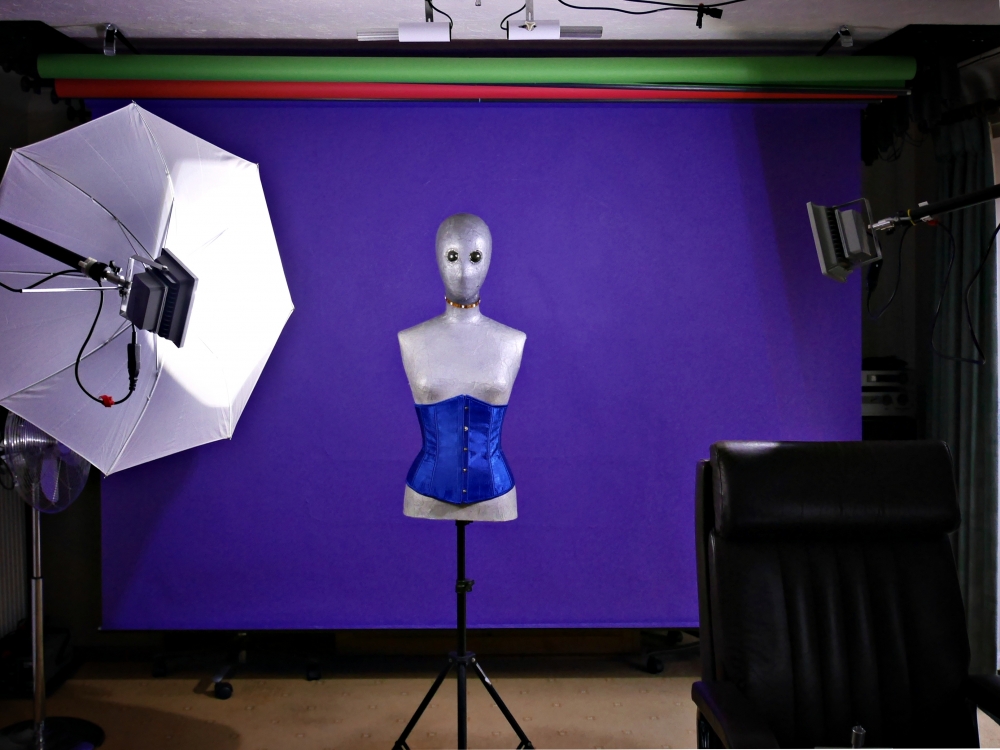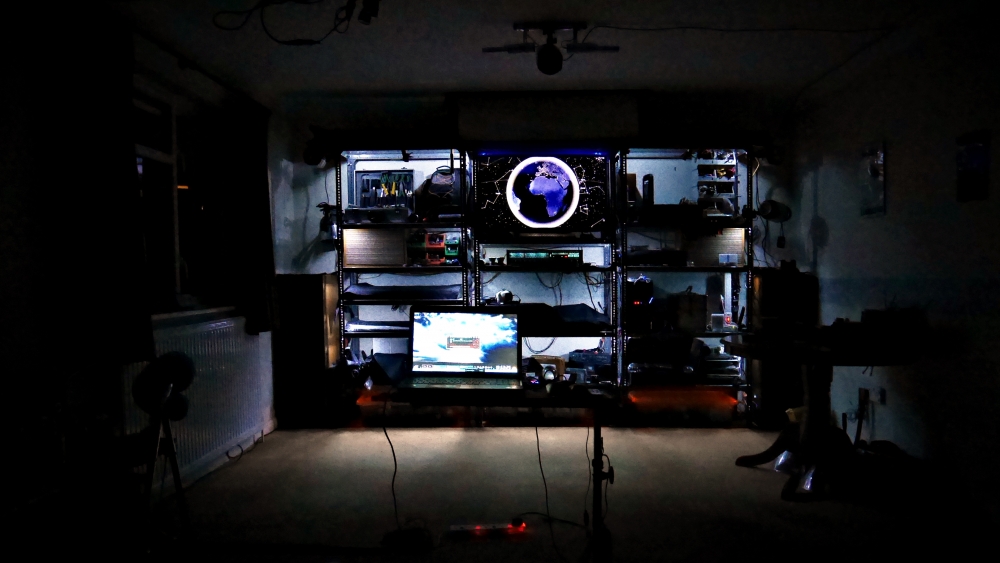 Refinements
Since putting the studio together I have added a few refinements:-
The LED part of my lighting now uses remote control "Mi-Light" LED bulbs/controllers, which I can set and control with my smartphone, via wi-fi. So the room morphs form from studio. to auditorium, to lounge and back to studio again with a few taps on my phone. Thus my studio space is easily redeployed for other things – a design feature which has proven particularly useful during this lock-down.
A remotely-accessible Raspberry π4 Linux Zoneminder server provides a PTZ security camera for the room (with quite a few more dotted strategically around the building). Same machine also receives data wirelessly from a small sensor-cluster, which monitors the temperature and importantly the relative humidity in the room – which I keep below 60% with the occasional assistance of a Screwfix unbranded dehumidifier. This ensures everything stays fresh and moisture free (especially the insides of my lenses!!!)
In conclusion
I work from home. Consequently, my studio really is a studio, in the old-fashioned sense of the word. Whilst I initially thought of the motorised backdrop system as a bit of a toy, in the five years I have had it, it has proven to be one of my most useful photographic purchases ever. I do much of my most creative thinking late into the night. Therefore being able to fold everything away at the click of a button and repurpose the space makes a lot of sense for me.
Being a GNU/Linux user also means I have lots of Linux computing power available to me. All my photography is digitally processed with GNU/Linux. And the Linux Zoneminder-based security camera system originally set up to protect the studio has acquired uses far beyond anything I initially envisaged. Though on the very rare occasions we go away, anything worth nicking that isn't bolted down, is removed to another location! 🙂
---
Disclaimer
This is how I set up my home studio. It is written with the intention of assisting others in doing the same. It is not intended as a "mine is better than yours" piece and I fully accept that other ways of doing it are available.
I have tried to configure my studio in a way that is safe and reliable. However it is your responsibility to ensure the safety of your own studio. For example, any electrical work should be undertaken by a qualified electrician.